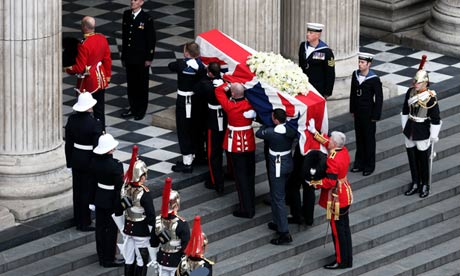 It has been almost impossible over recent weeks to avoid the reactions to Margaret Thatcher's death and her subsequent funeral. Some of the tributes have been very glowing, others less so. Margaret Thatcher was a Marmite politician - you either loved her or hated her. But, whatever your views on her politics, she remains another human being - a child of God - and worthy of a certain respect and dignity in death, as we all are. However, that is very different from a full-blown state funeral (in all but name), with costs of up to £10 million, especially with the money primarily coming from the public purse at a time when things are already very tight.
The funeral thus raises that perennial question: how much is someone worth? Does anyone really merit a £10 million funeral? Does anyone really warrant a million pound bonus? Or the enormous sums involved for kicking a football? That is not to denigrate anyone's talent or the enjoyment people can bring to millions of people. But there is a great danger in ranking people according to their "value". For all of us are of value and worth. All of us are precious in God's sight.
With that in mind, therefore, it is shocking to remember that 870 million people across the world continue to be desperate for food, a very basic necessity of life. Tonight, as on every night, one in eight people will go to bed hungry. The fact that the world produces enough food for everyone, but that not everyone gets enough, remains one of the scandals of our age. All around the world, even in the UK, people are struggling to feed their families. Each year, two million children die from malnutrition. Each year, the UK alone spends £1.3 billion on ice cream.
Margaret Thatcher was always very keen to talk about good housekeeping, yet good housekeeping has at its heart the welfare of all the household's members. And we are all part of God's household, all part of that human family, all children of God, all to be cherished and valued.
As a result, over 150 groups have got together to promote the IF campaign. This is seeking a commitment from our leaders to act on the four big issues that mean so many people do not get enough food and thus eradicate this injustice from our world for ever. For there would be enough food for everyone IF ...
we gave enough aid to stop children dying from hunger and helped the poorest families feed themselves;
governments stopped big companies dodging tax in poor countries;
we stopped poor farmers being forced off their land and if we grew crops to feed people rather than fuel cars;
governments and big companies were honest and open about their actions that stop people getting enough food.
So what can you do? Here are just a few suggestions.
Get involved with the IF campaign. Write to David Cameron (he is Woodstock's MP after all) asking how he hopes to raise the issue of world hunger at the G8 summit in June and encouraging him to get those there to take it seriously. Take part in the demonstrations in London on 8th June - and if you want to join up with others from Woodstock who are going, please let me know. Read about the issues on the IF website.
Support Christian Aid. Christian Aid Week is from 12th– 18th May and is another opportunity to show your support for those in dire need. Christian Aid themselves are one of the sponsors of the IF campaign and also work with some of the poorest people across the world. Please be generous when those envelopes come round! And, if you want a bit of fun while raising money at the same time, why not come along to our Christian Aid Quiz Night on Friday 17th May at 7pm in the Methodist Church. Come as a team, or as individuals and we will put you in a team on the night. There will be a fish and chip supper (paid for on the night) and a collection on behalf of Christian Aid. It is always a fun evening and everyone is welcome!
As in previous years, people are being encouraged to take up the challenge of "Living Below The Line" for five days during April or May. That is, living below the extreme poverty line (estimated at about £1 a day) for five days. For those taking the challenge, the £1 a day is to cover all food and drink. But for the 1.4 billion people around the world who live below "the line", that £1 has to cover everything – food, a place to live, education, health needs etc. How would you manage? Find out more.
God bless!
Jonathan
Jonathan is a member of the circuit staff and is minister for the churches in the Northern end of the circuit